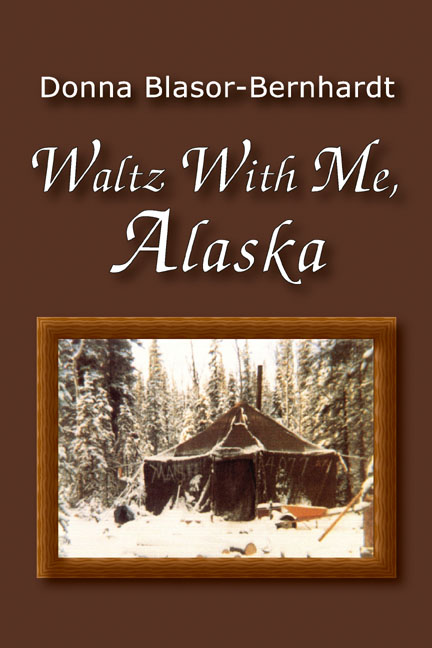 I tried for at least 20 years to get "Waltz With Me, Alaska" published. This was the story of me, my husband and two kids and the thirteen months we spent living in a tent in interior Alaska. This was not the first book I'd had published. No, I'd been living off my published works for a long time....there were around thirteen books in print by the time I got around to writing Waltz With Me, Alaska. But they were all self published. This book I wanted to be printed by a publishing company...one I didn't have to spend my money on. They would spend theirs.
I started by sending it to the publishing houses and watching it be rejected because I didn't have an agent. There must have been at least 50 rejections and most of the places hadn't even read the manuscript. They all said "Get an agent."
So I started trying to find an agent. This alone was time consuming and frustrating. I finally succeeded by going to a writers conference in New York and I ended up with an agent. And after a year of having her, she still hadn't even read the manuscript. So I fired her and kept searching. I went through several who didn't have the time they needed to help me. Then I found an agent in Anchorage, Alaska (we live in Alaska and this, I decided, would be handy) The only reason I got him was because I had an offer from a very big person in Hollywood to make my book into a movie (his mother is a well known movie star) and I needed an agent. So this Anchorage agent signed me immediately. Long story short here...the hollywood guy wanted to change the end of the book...instead of a success story, he wanted to make it a tragedy. This didn't sit well with me because this was MY story and a success. We argued over that fact, but in the end, I never signed the contract...I also lost the agent.
I had gone through half a dozen agents, before deciding once again, to try it on my own. In the meantime, I kept writing and I listed a short blurb about "Waltz" online, with the hopes that a publishing company would see it and want to publish it. Within a month, an agent emailed me, telling me she liked the idea of the book and would like to see the whole manuscript. She added, if she liked it, she'd represent me. Well,I was done with agents, but this was really what I waiting for! I remember wondering if she really was a legitimate agent. I mean, why was she searching the internet for books? There must be an awful lot of writers who sent her stuff. Still, after waiting a couple of days and weighing my decision, I decided to try it. It was the best thing I've ever decided to do! I sent the manuscript to her and she read the entire book in one evening, and immediately emailed me with a contract and the news that she would represent me with anything that I wanted her to represent. She also had me write a script for the movie.
The long and short of this is she got it published, and it didn't take her long! It came out in February 2004 and is listed on Amazon and represented around the world! Less than a month after the acceptance of "Waltz With Me, Alaska," I received more good news from her . A second book (also non-fiction) had also been accepted by another publisher. It was printed in April 2004...less than two months after "Waltz."
I still don't know what happened ...just that it did happen. I'd gone through agents, gone without agents, went to writing groups and conferences and even have a writing group which I head. Nothing had worked at all. My secret, it seems, is when I finally gave up and decided whatever was to be would be...that's when it all happened! And however it happened, I'm glad it did.
******
Waltz With Me, Alaska is the compelling true story of Dick and Donna Bernhardt who leave their Anchorage home and build a log cabin in the Alaskan wilderness to raise their family. Unable to complete the cabin before winter, a thirteen month struggle to survive in an old army tent with no conveniences and no neighbors ensues. Temperatures drop to 70 below zero. Every day is perilous, but peril and hardship are great teachers. The family works, loves, laughs and cries together while surviving the winter, completing their log cabin and living happily ever after.
Donna started out writing poetry...in the second grade! She kept on writing poetry throughout her schooling and into her married life. She used to send a poem to her husband in his lunch every day. Time marched on and they found themselves moving from Anchorage and living in the woods of Tok, Alaska. This is where her writing took off. She wrote a poem about the way they were living at the time...in a tent in the wilds of Alaska, and her hubby secretly read it and took it to the editor of the local newspaper. The people of Tok enjoyed it so much she was offered her own poetry column (which 32 years later she's still writing). She produced some small books of poetry. Ten years went by and she continued writing and speaking to the buses in Tok, reading from her books and meeting people.
Then her husband died suddenly and she still had kids to raise. She couldn't work in any capacity due to the injuries she suffered in a truck wreck, so she borrowed money and put together a few more books, and sold more and more of them, enough to make a decent living from them and put the kids through school, becoming known as the Poet Laureate of the Alaska Highway. She met reporters and TV people alike who would come to her tiny cabin to interview her. She was on Paul Harvey, and interviewed by dozens of people including Peter Jenkins and appeared on TV and many of the nation's papers and was included in several books.
Donna advanced to writing a small childrens book or two and a couple of recipe books in addition to the poetry books and small non-fiction books. She then decided to write screenplays and larger non-fiction books. She wrote a screenplay about their "tent" winter and six or seven more. But her non-fiction books are her prize possession. Although it took her a long time to see them published, she now enjoys the sales of her latest two: "Waltz With Me, Alaska" and "Pioneer Road." Donna's website can be seen at http://www.alaskawintercabin.com.